Farm Listing
Chestnut Oak Farm
Location: Beaver Springs, Pennsylvania
"*BREEDING UNIQUE & TRADITIONAL COLORED GYPSY & DRUM HORSES*"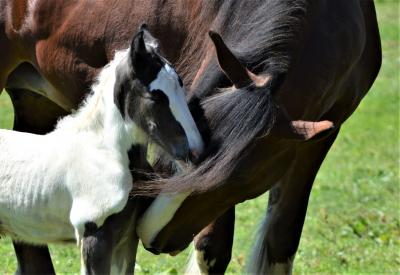 CHESTNUT OAK FARM GYPSY & DRUM HORSES - WHEN ONLY THE BEST WILL DO...www.chestnutoakgypsydrums.com
You aren't logged in!
Logging in will turn on more features when you view ads.

Welcome to Chestnut Oak Farm! We are a family owned and operated facility that specializes in breeding and sales of unique and traditional colored top quality Gypsy Vanner and Drum Horses for performance, personality, and presence. We breed, show, and promote these versatile breeds and have some of the best and oldest bloodlines available. We are located in the beautiful countryside of Beaver Springs in central Pennsylvania, just an hour north of Harrisburg.

Using carefully selected GVHS registered Gypsy Vanner mares and ASHA registered Shire mares, we are breeding them to our superb quality Gypsy Vanner stallions. Rosewater Cassidy 'Sid', is a Taliesin son and Bishop grandson who offers excellent conformation and traditional black and white coloring to our breeding program. Sir Royal RIO Grande is a spectacular HzW20 Silver Buckskin with red gene, grandson of The Boss and Coates Oliver. RIO has impeccable bloodlines and can produce a rainbow of unique colors. While truly believing in quality, not quantity, our foals are raised in a hands-on, caring environment, and handled daily. Each foal is imprinted at birth and receives the appropriate training per age level, giving it a solid foundation from the very beginning. From superior athlete to backyard friend, our horses are suitable for a variety of disciplines. They possess exceptional athletic ability and conformation, along with wonderful dispositions and beauty.

We offer quality young stock for sale each year so be sure to check out our website to see what we have available! Our beautiful Gypsy Vanner stallion Rosewater Cassidy "Sid" is highly athletic and training in Dressage! He is always in the blue at the shows he attends. Quality and one of a kind color, GDR Sir Royal RIO Grande is the ONLY Homozygous W20 Solid Silver Buckskin with Red gene Gypsy Vanner stallion in the world! He will offer extraordinary color to our upcoming Gypsy & Drum foals.

Chestnut Oak Farm
Scott & Wendy Rager
173 Ettinger Rd
Beaver Springs, PA 17812
570-658-2081
www.chestnutoakgypsydrums.com
Facebook: I Love Gypsy Drum Horses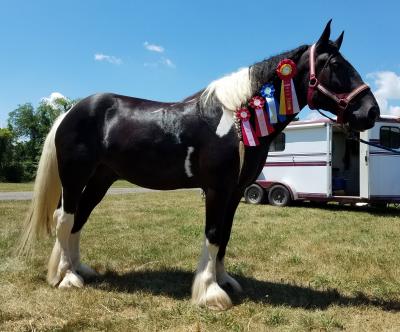 The Exhibitionist of Chestnut Oak, aka (Moon) 2009 homebred Champion Dressage Drum Horse. Winning Reserve Champion at his first under saddle Dressage show & 3rd Place In-Hand Dressage at Devon 2016!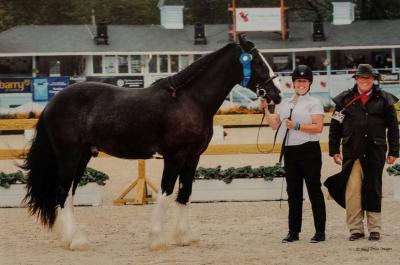 2014 Model homebred Drum gelding, Chestnut Oak's Luka took 1st Place Dressage at Devon 2016! www.chestnutoakgypsydrums.com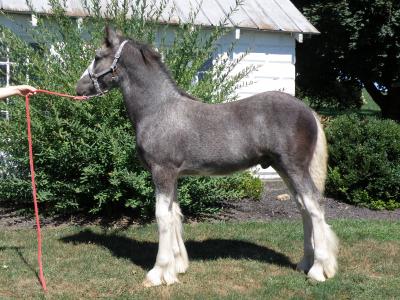 Unique colored blue blagdon sabino show quality homebred Drum gelding, Chestnut Oak's Zena's Trick born on April Fool's Day 2013!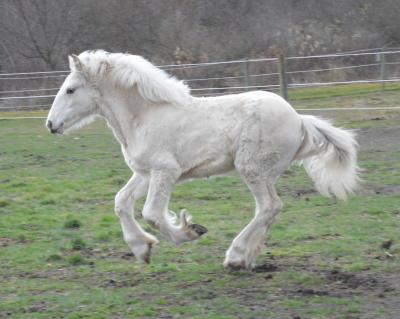 Only known Silver Buckskin Drum filly in the world, Chestnut Oak's RIO'S Premier aka Prima! 2016 homebred! www.chestnutoakgypsydrums.com
Ads from this farm:
Horse For Sale
RARE SILVER BAY TALL DRUM FILLY PERFECT DRESSAGE PROSPECT!
Drum Horses (Price: $18500)
Horse For Sale
STUNNING YEARLING BUCKSKIN DRUM COLT PERFECT MARKINGS FLASHY
Drum Horses (Price: $18500)
Horse For Sale
RARE TEAM OF PERFECTLY MATCHED FLASHY DRUM COLTS BROTHERS!
Drum Horses (Price: $25000)
Stallion Service
15.1 H TRIPLE REGISTERED GYPSY VANNER AT STUD 4 X CHAMPION!
Gypsy Vanner (Stud Fee: $800)

For more information contact:
Wendy Rager
Chestnut Oak Farm
173 Ettinger Rd
Beaver Springs, Pennsylvania 17812
Phone 570-658-2081
URL: http://www.chestnutoakgypsydrums.com



Ad Reference Number is 4c928b8f9e28e
This ad has had 16183 hits since created on 2010-09-16
Last modified on 2018-06-23
Last renewed on 2018-03-27